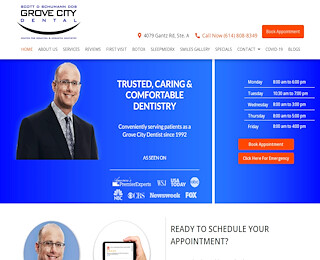 When you need to see a Grove City oral surgeon, consider choosing Grove City Dental for multiple services in one convenient location. We offer your family a full range of dentistry services with the added option of an on-site oral surgeon for specialized treatments and procedures. If you've received a dental referral to see an oral surgeon, we can offer that second opinion or consult with you to determine the best course of treatment for a healthy, beautiful smile.
What Does an Oral Surgeon Do?
Someone in your family may be advised to see a Grove City oral surgeon without much of an explanation by your dentist. Since most dentists specialize in preventive dentistry with a few additional options for minor restorations or cosmetic treatment, it's necessary for a patient to see an oral surgeon for more serious restorations, wisdom teeth extractions, jaw joint issues, and oral surgery. If you're not sure about the reason for your referral to an oral surgeon, our staff at Grove City Dental can answer your questions and provide your family with a single-practice experience for all of your dental care needs. We can often eliminate costly and time-consuming referrals to out-of-office specialists.
Do I Need to See an Oral Surgeon?
It could cost you a lot more to see an oral surgeon than to visit a general dentist specializing in oral surgery. At Grove City Dental, we work hard to keep the costs of treatment at their lowest, so patients who choose us for their family dentist will end up paying less than if they had gone to an oral surgery specialist. One of the ways we reduce the costs of dentistry is by providing a more extensive range of services to our patients, all within the confines of our practice. You'll not only enjoy a more positive dental experience, but you'll also notice lower payments when it's time to pay your bill. We accept most insurance plans as payment for treatment performed at Grove City Dental.
Full Service Dental Care at Grove City Dental
Why see multiple dental professionals for treatment when Grove City Dental can meet all of your family's needs under one roof? Our investment in the latest technology, the best equipment, and continuing education mean a more comfortable time in the dentist chair with less time spent driving to appointments. We perform all types of dental restoration services, including fillings, root canal treatment, crowns, bridgework, implants, and many additional procedures you won't find at most family dental practices. Our goal is the same as yours: achieving your smile goals in the most affordable way.
Meeting the Dental Needs of Grove City
For checkups, cleanings, orthodontics, cosmetic treatments, and restorations, schedule your next appointment with our team- you'll even find a Grove City oral surgeon on staff for extensive dental restorations. Whatever your objectives in treatment, rest assured we have the skills and equipment to deliver quality dental care without the need for a referral.
GROVE CITY DENTAL
6148081700
4079 Gantz Rd, Grove City, OH 43123
View Larger Map